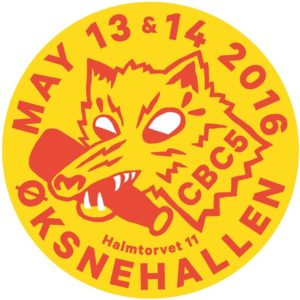 I figure a week's recovery after this year's Copenhagen Beer Celebration is enough to have some thoughts gathered about what went down. I'm aiming to have a set of impressions, both positive and not, both for personal comparison and for anyone thinking about attending the event.
Copenhagen treated us to some absolutely glorious weather pretty much throughout the long weekend. It's a wonderful city, and hard to believe that as little as five years ago there was barely a beer scene there. Now the city still dominated by the presence of Carslberg is absolutely buzzing with fresh brewing ideas and places serving beer alongside hugely inventive food.
On the face of it, the concept of CBC is simple. Each brewery invited by Mikkel (of Mikkeller fame) brings two beers per session. When those beers run out, the brewery does not replace them until the next session. Attendees are free to wander and sample any beers to their hearts' content. The price of attendance is steep, at about £50 per session or ca. £200 for all 4. Add to that the cost of travel and accommodation, and it's definitely an investment. To do some false maths, did I have enough beer to warrant the price tag? In terms of pints, probably not. Indulge me here, but assuming that a Copenhagen pint is about £10, you'd have to have about 57 50ml festival pours during a 4 hour session to make up that cost. But, like I said, that's false math. Where else in the world would you be able to have fresh Hill Farmstead beers under the same roof as choice picks from Boneyard, Surly and 18th Street? That's got to have some value to it.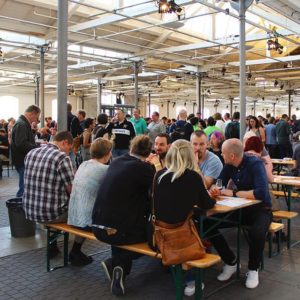 Copenhagen Beer Celebration is first and foremost a massive beer festival, but it seems like for the entire week preceding there were events that were at least equally as cool, geeky or interesting. There were tap takeovers from breweries at places like Fermentoren, and To Ol's massive new venture Brus had its opening to coincide with the start of CBC.
The key piece of advice with regard to CBC in my opinion would be to pick your battles. In order to be in with a chance to try Dark Lord, say, you would have to get in a venue-length line that just didn't die until the keg kicked. However, there are just so many insane beers available, being served with the people who made them present, that I didn't feel hard done by not queueing up for it. If anything, I ended up having serendipitous discoveries instead! Similarly, I didn't fancy lining up for an hour to be poured Hill Farmstead beers the night before the festival at Warpigs, and instead went to another bar around the corner from the meatpacking district for spectacular sunshine and lovely conversation.
The crowd at CBC is intensely, intensely geeky about the beer. There are no hangers-on – the commitment to a specific session coupled with the price means that if you are at the festival, you want to be there. Everyone was super cool about it, and there was much sharing of knowledge, passion and of course glasses. The only blemish would have been an asshole who mouthed off at the Surly stand about how they hadn't "brought any rare shit" and instead he could "go to the brewery and get cans of any of these". He of course wouldn't take Todd Haug's word that none of the beers being poured at that session were available in can or that we were in Europe where there is categorically no Surly distribution!
Admittedly, this was my first year attending the festival, meaning I had not attended when the event was at the sports hall. Instead, Oksnehallen provided an airy, well-lit and open space which I think worked quite well, apart from it being quite loud.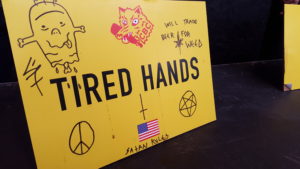 What, then, could have used improving? Not a whole lot, overall. My biggest gripe was the fact that water was sold rather than being given away. I know Mikkel is a master squeezer of profit, but £5 for a 500ml bottle of water seemed steep. Just have some water fountains! Be a responsible host!
Kind of related, running glass rinsers with 20L corny kegs meant that they were constantly running out of water for rinsing. I get that the venue was only set up to be a beer festival temporarily, but a bit more infrastructure would have helped.
Obviously, the weather was entirely out of the hands of the organisers, but with 1500-plus people packed into a hall drinking small sippy cups as fast as they can, the sun on Friday meant that it got incredibly warm in the venue. More than once I had to just go outside and sit on the kerb feeling the breeze before braving the hall again. Some sort of air conditioning wouldn't have gone amiss.
Would I go again? Yes, definitely. Would I stump up for an all-singing all-dancing all-session Pink ticket? Not so sure. That's purely out of a sense of self-preservation, mind. Doing two full working days of sampling leaves you taxed both mentally and physically, not to mention the fringe events in the evenings! I'd like to enjoy the whole thing more, feel the vibe of the place. I'm not a beer ticker by any means, so not being able to try the kumquat tequila barrel imperial mild from Brewery Boogaloo at the Green session wouldn't necessarily be the end of the world for me. At no point did I feel like my world would have been worsened by not getting to try a particular beer.
However.
There were some true standouts, which made the experience incredibly awesome. Most of them being complete surprises to me helped! In no particular order, here's a couple of choice picks from CBC 2016 to get you keen for the caliber of beer available:
Hill Farmstead Sumner
This 5.2% American Pale Ale is everything I love about beer in a glass. Like a blast of sunshine, apricots and cut grass, finishing dry and moreish. I said at the time that there was nothing I would change about the beer. Absolute pinnacle of the style. I went back a few times to the point where the volunteer pouring it just filled my glass.
Surly Pils
It's a hot day. My friends are nursing fledgling sunburns. There is a cool breeze blowing outside. The Surly/18th Street/3 Floyds contingent are blasting out death metal from a portable speaker. I have a glass of Surly Pils hopped with Spater Select. It's grassy, bitter, dry and refreshing. It's exactly what the doctor ordered. A true set and setting moment.
Angry Chair German Chocolate Cupcake Stout
Who are these guys from Florida? Is this the most out there beer concept at CBC? (No.)
Incredibly rich. Like, stupendously so. Thick chewy mouthfeel, and slips down surprisingly easily. I have no idea how they made this, but it's stuck with me since, being a massive fan of chocolate brownies.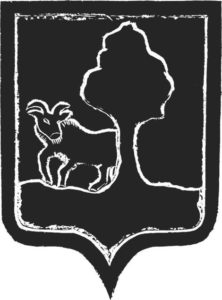 Bokkereyder Pinot Kriek
Bokkereyder have precious little information about them out there. They did, however, have the best-looking stand of the entire festival, and were up for a chat which was super illuminating and almost worth its own post. Their beer was nothing short of stunning, and I feel privileged to have tried them, especially the Pinot Kriek. This deep, funky berry-filled beer had the depth of something like Lou Pepe kriek but with a bit of something else, something elusive. An absolute revelation.
Half Acre Double Daisy Cutter
Having got to try Daisy Cutter earlier in the year, I knew Half Acre had to be on my hit list at CBC. Double Daisy Cutter did everything an American double India Pale Ale should. It was bitter, it was sweet, it was juicy, it was aromatic and it was treacherously moreish.
Rare Barrel Impossible Soul
Another incredible experience was to have the brewers of the newest wave of American sour beer pour their darlings for you. Impossible Soul was a complex but incredibly mouth-drying experience, going to show that American Wild Ale is a distinct thing that has absolutely come to its own. Impossible Soul ended up having a bit of a miracle berry effect, as after swallowing it everything, including my saliva, tasted sweet.